Last-Minute Mother's Day Gift Guide
Sunday is Mother's Day, which means you've only got a few more days for finding that mom gift. We've lined up some great products for your last-minute Mother's Day shopping.
Tea + Coffee = Teaspressa
If you haven't heard of Teaspressa, then you just might become your mom's favorite after a gift from here.
Teaspressa is changing the way we think about tea as it's brewed like coffee. Instead of a "slow brew" like with normal tea, Teaspressa leaves are best made in a French Press, Moka Pot, Aeropress or as a Pour Over. Once brewed, use it to make your favorite coffee beverage (Americano, Latte, Cappuccino) but it's tea instead of coffee! You'll get the same amount of caffeine for energy, the same robust flavor that you've come to expect with coffee, but it's healthier, tastier, and comes with health benefits.
Faucets For The Moms Who Don't Go With The Flow
Meet the most comprehensive series of the Hansgrohe brand of faucets to date. Introducing the new Metropol collection by the creative team, Phoenix Design, for Hansgrohe.
The series collection includes three different lavatory faucet heights as well as several different handles, spout heights, and configurations, offering a wide range of applications and individual leeway for users. Boasting clean-cut edges with polished surfaces, the collection also includes coordinating free-standing single-hole tub fillers as well as roman tub trims.
Water Had Filters Way Before Social Media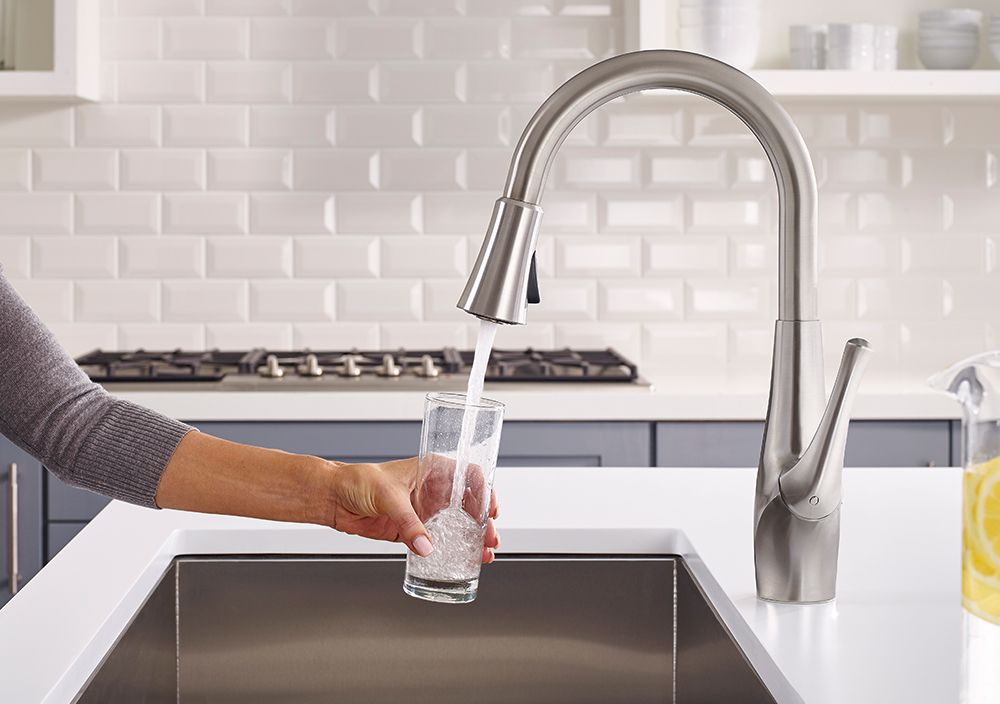 Pfister Kitchen Faucet with Xtract ™ Technology | Water Hose
Now that you covered mom's faucets in the powder room, how about filtering her faucets in the kitchen? The Pfister Lita With Xtract™ is a 1-handle, pull-down kitchen faucet with advanced filtration for healthier drinking and cooking water.
Xtract™ is advanced filtration, times two. Pfister faucets with Xtract™ technology deliver great-tasting filtered water and regular tap water from a single faucet, 2X faster than typical water filter products.  Xtract uses GE® 2X High Flow Filtration which reduces contaminants such as pharmaceuticals, chlorine, and lead. See the chart below. We were shock to learn that a Xtract Filter cleans more than a Pitcher Filter.
Xtract vs. Other Filters

Moms Love Clean Air, Especially Blueair
Blueair Classic 405 Wi-Fi Air Purifier
Who wouldn't want to have pure Blueair with built-in Wi-Fi? Get on the 405 and expressway yourself to the brand's most popular model. It is ideal for medium to large rooms up to 430 sq. ft. Its HEPASilent technology eliminates 99.97% of all airborne pollutants such as pollen, dust, pet dander, mold, bacteria, and viruses. And it is smart with Wi-Fi so mom doesn't have to think too much about it.
Get Mom Zen 
You will fall asleep with a smile knowing you bought your mom a great gift with the iHome iZABT50 because you will help her be Zen. This mode offers three therapists in one: light, sound, and aroma. It also features 6 different sound tracks all while relaxing the body, calming the mind, and lowering breathing and heart rate, and letting the aroma of the included lavender oil prepare mom for sleep.
Hurry! You took too long to read this. Now, happy Mother's Day shopping!